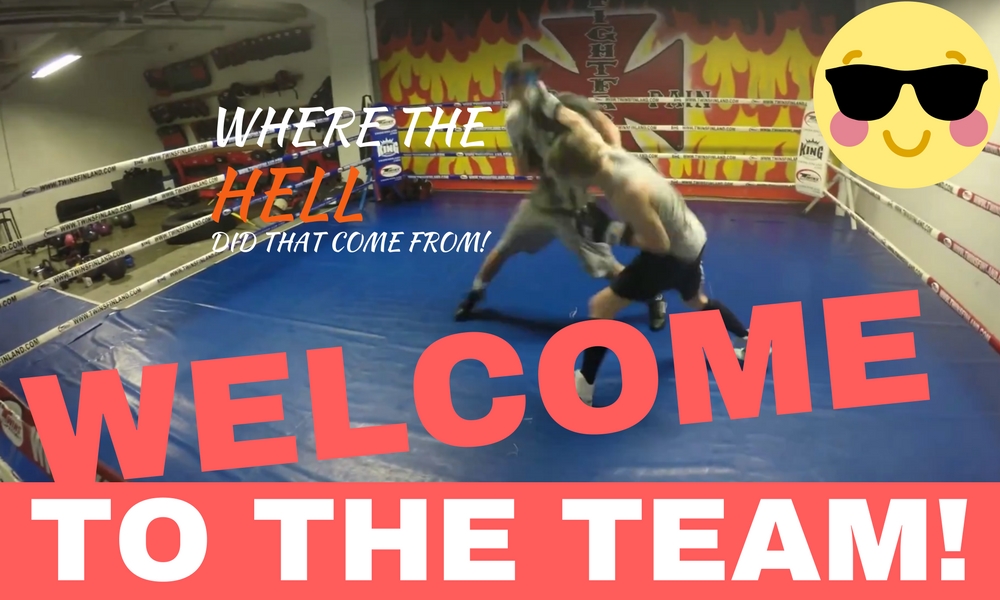 Sparring in Tampere
I went to visit Tampere in Finland for my next boxing sparring session. 
This was about one month after my first "real boxing" sparring session.  Since then I had changed my game plan a lot, as I explained in my previous post, I noticed I had to skip a lot of "moves" to be effective. 
I had also worked a lot on my explosiveness and some new combinations that Karre Anttonen showed me.
His Warm-up Looked so Professional
When I came to the gym there were a couple other guys training MMA, and there was also a boxer warming up with his coach beside him. 
Karre told me to start doing my warm-up routine, and he said it such a way that made it sound like I already had my own systematic warm-up.  The problem was I should have had a proper warm-up system, but I didn't, So, instead I just started shadowboxing at a high tempo and simultaneously glancing over at the other boxer who I was going to spar,  In contrast, he actually KNEW what he was doing and had a great routine for his warm-up, it looked so professional that it made me seriously think I was going to get beat up bad.
I kept shadowboxing, trying to get my heart rate up and break a sweat. I remember looking at their coach who appeared to be holding back his laughter and looking away at the same time, to this day I'm not sure if it was directed towards me or not, but I don't blame him. Then Karre came to me and guided me so I would get a proper warm-up.  It certainly made me feel unsure of myself that I had traveled so far for sparring (from Aland Island to Tampere), and for everyone to see that I didn't even know how to warm-up properly.
"Where the hell did that come from"
After the warm-up, I put on my gear and went inside the ring, this guy was taller than me and a little heavier.
I instantly countered his jab with a hard right hand, he shook his head as if he had gotten a little dizzy and surprised by how fast that right hand came, I kept the pressure on him the whole round and got in quite a few punches. I
n the beginning of the second round, I feinted and slipped just under his jab then I countered with a right hand and a hard left which lifted his chin and moved him back towards the ropes. He then moved away and says in Finnish, "Where the hell did that come from".
These two things I won't ever forget
Afterwards, both him and his coach thanked for the sparring and said that they thought I was fast. I learned a lot that day but there are two lessons that really stand out.  I especially want to share these lessons with beginner boxer's or boxers who are visiting a new club for the first time and are nervous before sparring:
1. Never get fooled or intimidated by a potential sparring partner's warm-up routine, even though he may look like a professional, it does not mean he is a better boxer than you.
2. Make sure to have your own thorough warm-up routine. Don't overlook this aspect of your boxing development.
Welcome to the team
I went back to the hotel to shower and change while Karre and another boxer from the club left to compete in a local competition. A
 few hours later, Karre came back to the hotel to see me.  He took out a jacket that had the name of the club on it "Porvoon Nyrkkeilyseura".  He then gave it to me and said, "Welcome to the team!"