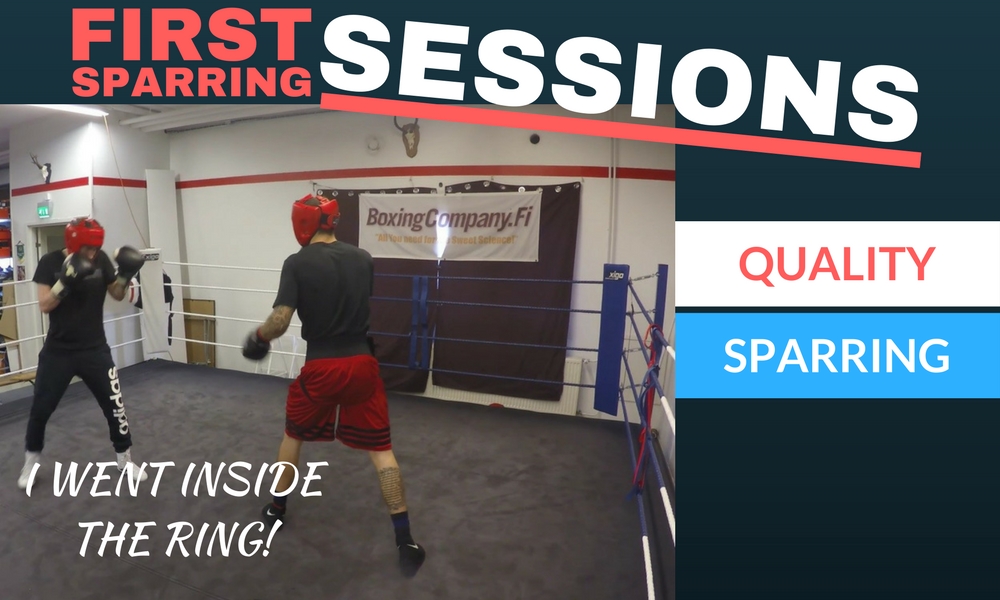 My First Sparring Session as a member of Pons Boxing Club
When I started at the Pons boxing club (around march/april 2016), I wanted to compete as soon as possible, especially since I had already waited for so long.  But what I understood better now than before was that to get a match representing that club they wanted to know I was serious about competing.
Different than sparring a boxer I knew
I had mostly been sparring with the guys "at home", the Muay Thai guys. So the sparring was a lot different than sparring boxers I knew.  I had only sparred twice in Sweden with boxers and with my coach Walle Wahlsten, he is the boxing coach from another club on Aland Islands. He is really good and has been boxing for just a few years, but I could of sworn he has been doing it for a lot longer.  The downside is that he is around 50 years old so he does not really have the endurance like a younger boxer. We can go a few rounds but after that he is dead haha, hes a champ.
It was thanks to him that I continued boxing when I was in my down-periods, he was always asking if I wanted to do some pad work or sparring, and he was also looking for boxing clubs I could compete through.  That really got my motivation up and running in the days I was feeling that my goal to compete in boxing bout was out of reach.
Sparring session in Porvoo
It was finally time for my first sparring session as a "Pons" member, so that meant people and my new coach Karre would be watching me. I was quite nervous since I did not know how I would do against "real boxers", I also didn't know how hard they would hit or how fast they would be nor how good they would be. Many negative emotions where running through my head, I was imagining every possible worst case scenario.
I went to Porvoo for my sparring session, Karre was there of course to coach me and to see how good I was. I got matched up with a guy around 64kg that had been boxing a little longer than me and had went on a few bouts.
Tip, if you have a phone or a camera then i recommend you record your sparring sessions, read about my insights and how i developed a lot faster once i started to record HERE.
I went inside the ring

After warm up I put on my gear, I went inside the ring waiting for the timer to beep so we could start. I was excited and a little nervous before, but quite calm once I was up in the ring because I knew I am just going to do what I have done many times before.
I knew also that I wouldn't get hit harder than I did at the club in Aland, in my time there I had blocked a few punches with my head from the heavier guys.  A guy at 64kg should at least not hit harder than they did, but of course, you never know.
First round starts

I started kind of passive, trying to get in a hit or two, just moved around to see how he would respond. We went back and forth with our attacks, got a little messy every now and then for me, got myself off balance when trying to reach too far etc… This guy Rami was really good, hard to hit and fast to counter.
Felt great getting instructions
It was my first time ever that I had a coach in my corner, it felt great getting instructions on what to focus on and what to avoid doing during the sparring. The second round went a lot better than the first thanks to that. A
few rounds later when the timer beeped for the last round we both hit each other's gloves and said "good job".

I was exhausted! My endurance was not so good at that time. and then when I was about to take off my gear they said the sparring isn't over quite yet, I was still supposed to spar with 2 other guys, I think they both were around 55kg and had competed before. I remember thinking "oh crap", because I was indeed exhausted!
Impressed by the quality of the sparring
They were really fast, like flying around the ring throwing punches at me, but even though I was tired and exhausted just eating punches I managed to get in a few punches myself, it was a good sparring and I learned a lot. But overall I was really impressed by the quality of the sparring.
You were exhausted even before the sparring started
Often at home, the sparring sessions were at the end of the training, so most of the times you were exhausted even before the sparring started, and then you were supposed to go for 10 x 3min rounds so you sparred in medium tempo to save energy for the remaining rounds and you never had the speed or power you would if you started fresh. I don't blame the coaches I had for this because it was not a group of people that were competing so I fully understand, but I got too used to it. Now in the other hand, we warmed up and started sparring when we were full of energy, like it is when you go a boxing bout.
I had to skip a lot of "moves"
When you go slow or medium tempo in your sparring you are able to do some things that will never work in a real bout.  When your opponent steps it up to the speed he is capable of, you will notice a lot of the stuff you were doing does not really work anymore. At least for me it was like that, I had to skip a lot of "moves".
Since I had my first "real boxing" sparring session, I have strived for more challenging sparring sessions and I have developed a lot more from it. This is what works for me, we all have different ways of learning.
Boxing had just begun for me
I did not get any clear signs of how I did until I came home and watched a video of the sparring.  The guys I sparred with said I was good and thanked me for the sparring, so it was of course nice to hear, but I knew I had A LOT to work on and that this sport called boxing had just begun for me. Afterwards, me and Karre had a talk and he told me what to work on until we would meet next time. I was really excited to just learn more and get started with boxing for real now.